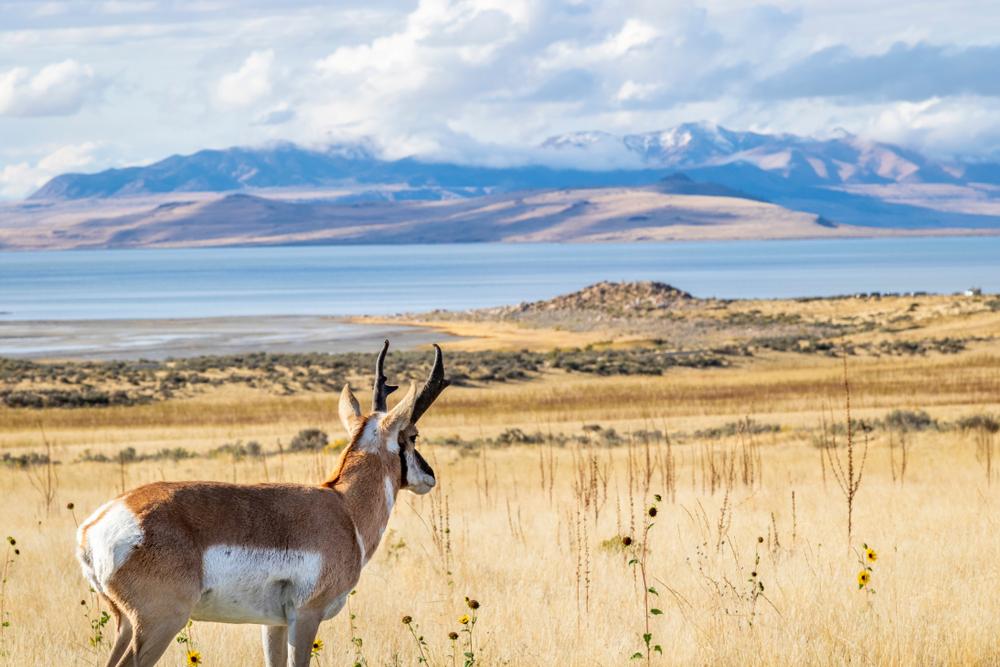 Antilocapra Americana, the American pronghorn's Latin name, means "antelope goat." However, even though it is most commonly referred to as an "antelope" even by wildlife professionals and nicknamed the "prairie goat" by hunters, the pronghorn is not even distantly related to either antelope or goats. The pronghorn has roamed the North-American continent for millions of years and is the sole surviving member of the Antilocapridae family, and is more closely related to the giraffe than any antelope species. 
Pronghorns typically prefer wide-open spaces and are found predominantly on the plains and prairies of the western U.S., where they can use their incredible vision, comparable to eight-power binoculars with a 270-degree field of view, to detect danger from vast distances and escape it with their blazing speed reaching up to 70 MPH! While a "trophy" buck requires a horn length of at least 16 inches, a pronghorn must have a minimum score of 70 Boone and Crockett points to make the record book. 
Hunters who are not intimately familiar with pronghorns always want to know where to hunt trophy antelope in the United States and what states hold the largest populations, grow the biggest bucks and offer nonresidents the best opportunity for drawing a tag. While inhabiting most western states, pronghorns are found in the greatest numbers in the open areas of the Rocky Mountain states. The top five pronghorn states include Wyoming, Montana, Colorado, New Mexico, and Arizona. Wyoming holds the four top Boone and Crockett bucks, with Arizona and New Mexico each claiming two. Some states offer plenty of public land opportunities to hunt pronghorn, and most states also have outfitters who offer guided antelope hunts. 
Wyoming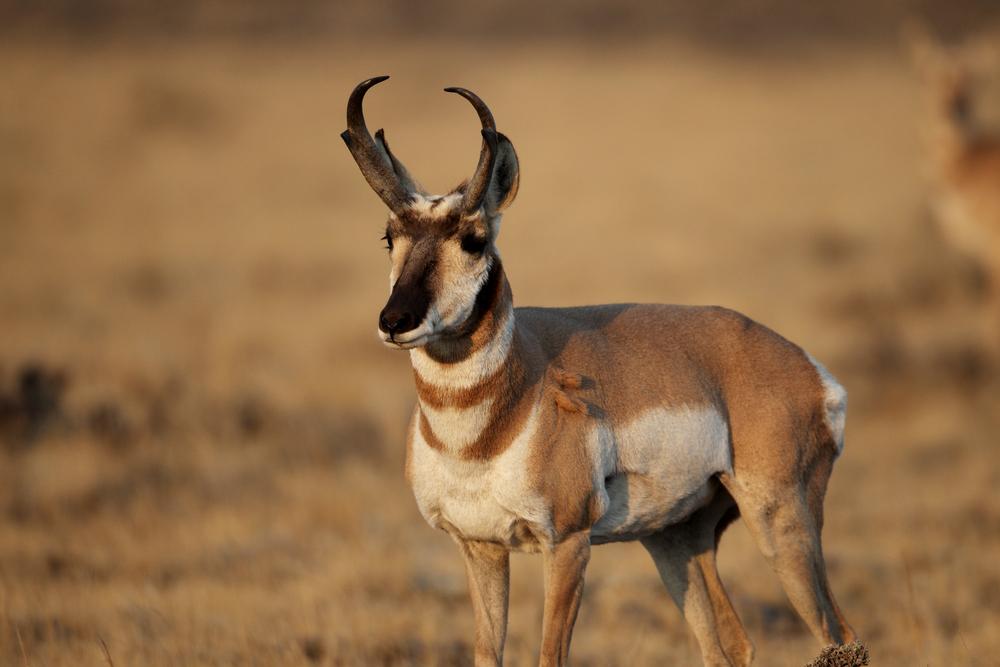 Having the least amount of people and the largest pronghorn numbers in the country, the Cowboy State is the great-great granddaddy of antelope hunting and one of the best places to hunt trophy antelope. Wyoming currently claims the top Boone and Crockett buck that scored a whopping 282 points, taken in Carbon County, as well as the second place buck taken from Sweetwater County that scored almost 100 points less at 183 points. The state holds roughly 450k pronghorns, and spotting herds of over 100 animals is not uncommon. Wyoming offers plenty of public lands, and guided and unguided private land hunts are readily available. Tags in Wyoming are easy to get either by lottery draw, over-the-counter purchase, or a combination thereof. There are also a large number of tags typically left over from the lottery that can be purchased directly from fish and game. Archery season runs from mid-August to late September, and the general season from the first of October to mid-November.
Montana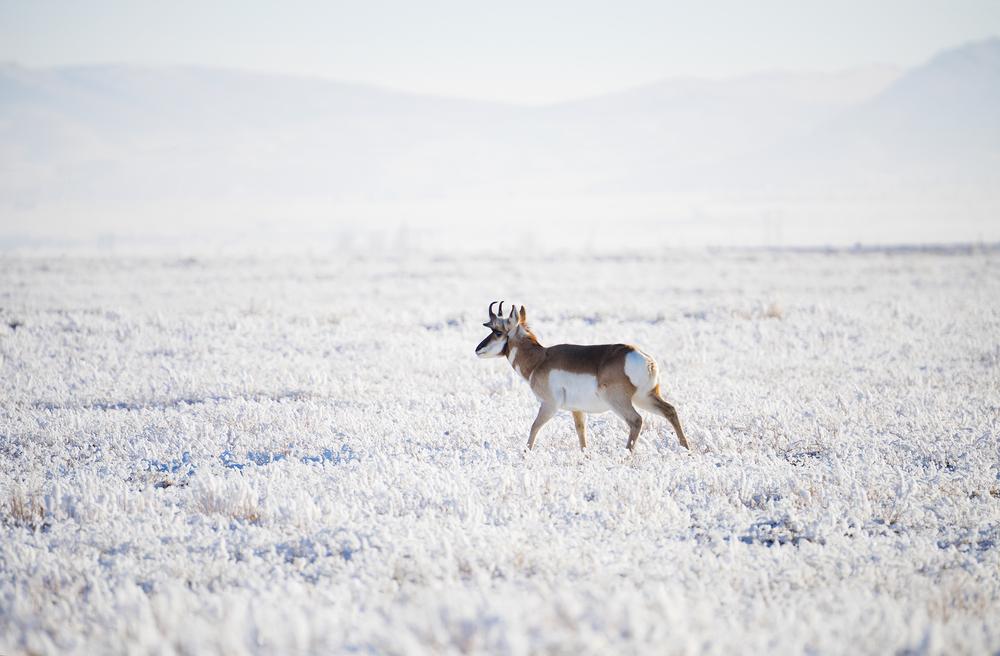 Eastern Montana's vast expanses of prairie and grassland hold the second-largest pronghorn population in the U.S., with thousands of acres of BLM, state, and federal wildlife refuges open to the public. The Montana Department of Fish, Wildlife and Parks also administers a "Block Management Program" that opens up thousands of additional acres of private land to the public. Many private ranches in Montana also offer guided hunts. However, be aware Montana FWP advises out-of-state hunters that rifle tags can be a tough draw in the more popular units with just a 25-percent success rate. This means hunters should be willing to apply for two to three years in a row. However, there are typically tags left over from the lottery draw in some units that can be purchased from Fish, Wildlife, and Parks. Archery season begins in mid-August to early September, depending on the district, and the general season begins in early October, with both seasons running through mid-November. 
New Mexico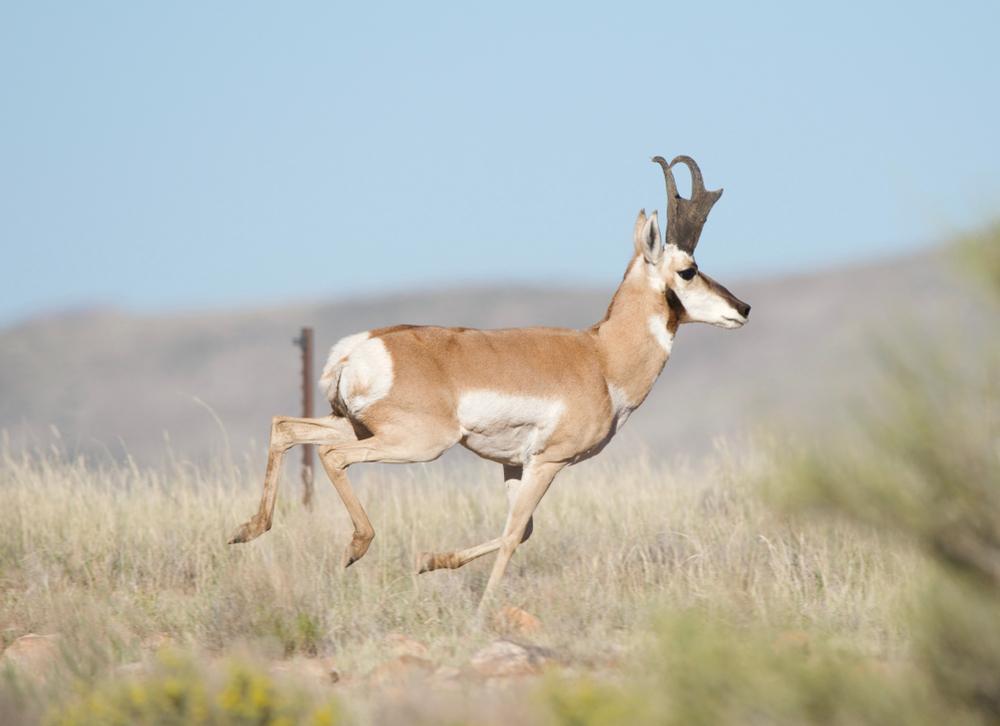 The Land of Enchantment grows some big pronghorns and is one of the top states to hunt trophy antelope. New Mexico holds two of the top 10 Boone and Crockett bucks, scoring 117 points and 99 points, taken from Socorro and Mora County, respectively. However, New Mexico is not the most nonresident hunter-friendly state, with just six percent of state's big-game tags being allocated for nonresidents. However, New Mexico does provide landowners an allocation of "ranch tags" that allow nonresident hunters a guaranteed opportunity. Prices will vary depending on the type of hunt you book, with ranches offering fully guided hunts and simple access to self-guided adventures. Bow season is in early August, and the general season is in late August. Hunters who are mobility impaired can hunt from late September into early October. 
Arizona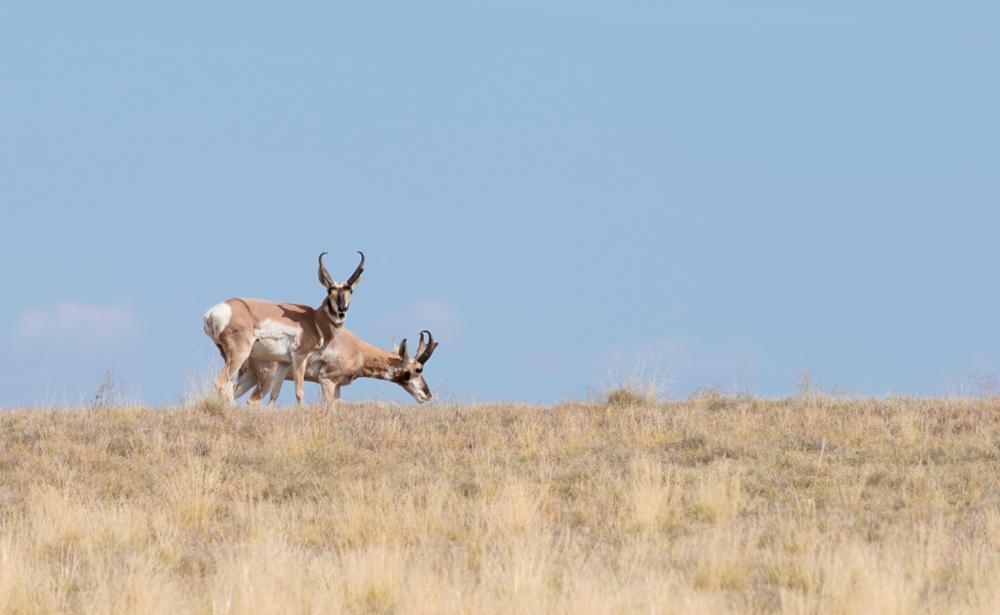 The Grand Canyon State probably doesn't come to mind when considering where to hunt trophy antelope in the United States. Still, Arizona holds two of the top ten Boone and Crockett bucks at 128 points taken in Coconino County and 92 points taken in Yavapai County. Arizona pronghorn rifle and muzzleloader tags are not easy to come by as they are one of the most coveted hunts in the state, and it can take years to be selected in the lottery draw. However, archery hunters have better odds of drawing a tag. Big Chino Guide Service is one of the top private Arizona ranches providing guided antelope hunts. As their herds are managed for quality, not quantity, they have a long history of regularly taking record-class bucks. Big Chino also offers some of the best luxury hunting tours in the U.S. for several big-game species. Archery season runs from late August to early September, and rifle and muzzleloader season is in mid-September. 
Colorado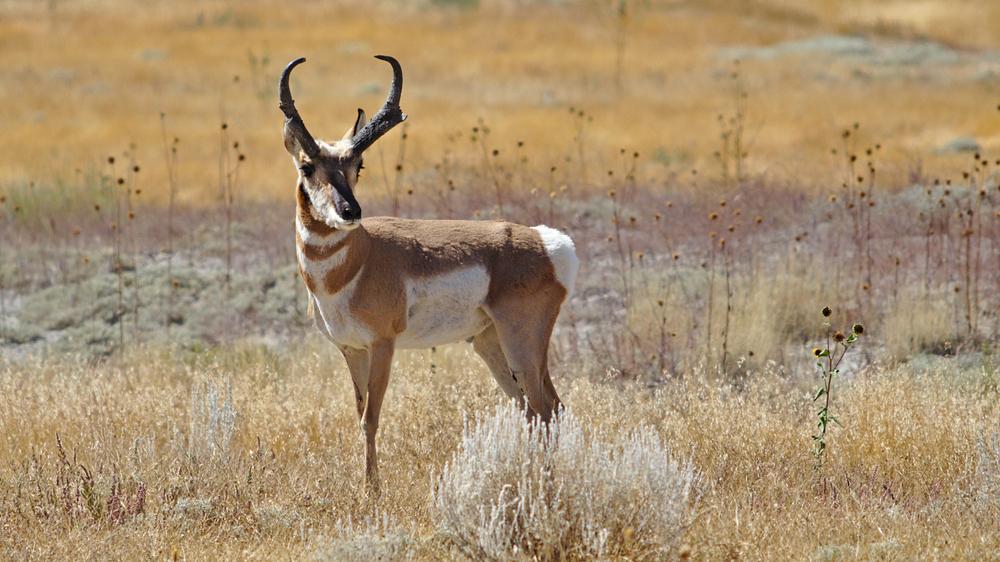 The Centennial State often comes to mind when discussing hunting in the western U.S. as it has good game populations, over-the-counter tags, and plenty of public lands to hunt on. The eastern part of Colorado is all plains, making it prime pronghorn habitat. However, some of the best pronghorn hunting in Colorado is found in the northwest corner, namely in Moffat County. Although much of the land in the east is private, there are areas of public land that include the Comanche National Grasslands in the south and the Pawnee National Grasslands in the north. Colorado Parks and Wildlife has also partnered with landowners to provide access to private lands with the "Walk-In Access" program in eastern Colorado. The state offers a lottery draw, and there are typically plenty of tags left over that can be purchased from Colorado Parks and Wildlife. Colorado also offers ample opportunities for elk and deer hunting, and several private ranches offer luxury hunting tours for multiple species. Archery season runs mid-August through mid-September, muzzleloader season is in late September, and rifle season is in mid-October. 
Whether you call them pronghorn, antelope, or prairie goats, the American pronghorn's vision, speed, and habit make the animal one of the most unique and challenging hunting experiences found anywhere on Earth. If you need help booking guided antelope hunts or luxury hunting tours around the world, contact Joe Rossi, owner and operator of Wildside Adventures Travel Service. He hosted "Joe's Wildside Adventures" for 10 years on the Sportsman Channel, FOX and ROOT Sports. Visit Joe's YouTube channel WildsideJoe to see some of his adventures. You can contact Joe at Wildside Adventures Travel Service, joe@wildsidejoe.com, or call him at 412-352-8703.