Find Your Guided Hunting Tour
UNITED STATES HUNTING DESTINATIONS
The United States has some of the most diverse and incredible wildlife for hunting. Whether looking to bird hunt or harvest your first elk, Wildside Adventures can plan the perfect expedition. Our hunting expeditions focus on Waterfowl, Big Chino, Pheasant, Grouse, Woodcock, Elk, Mule Deer, and more. If you are interested in a hunting expedition but don't see it on the website, contact Joe! All itineraries are custom and can be tailored to your dream hunting trip.
PENNSYLVANIA –

Wood Crest Point Hunting Preserve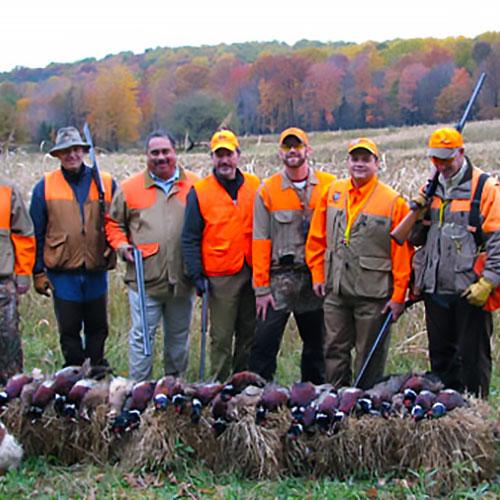 Our Chukker and Pheasant hunting tours in Pennsylvania can be both challenging as well as satisfying. With natural surroundings nestled in the rolling hills of Western PA, you can enjoy some great upland bird hunting without being in the Midwest.
Our goal is to provide a hunt that results in a memory of a life-time. We appreciate the joy of spontaneity and will do our best to accommodate any request you may have however we do prefer, if possible, that at least a one weeks notice be given to schedule your desired hunt.
NEW YORK –

Beaued up Waterfowl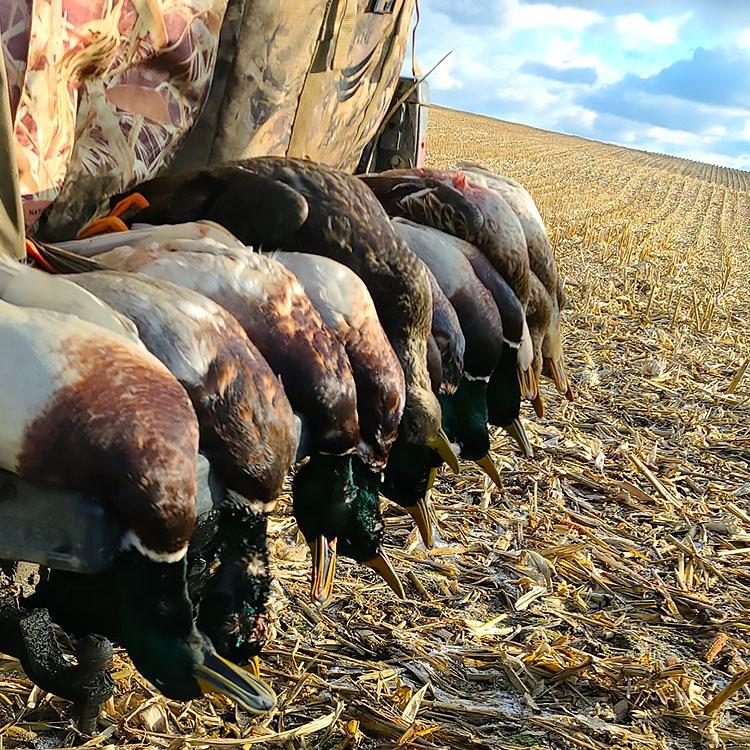 Beaued up Waterfowl is a fully guided waterfowl hunting service that offers Canadian goose and duck hunts. Located in Western New York, our hunt zone is an ideal location within the Atlantic flyway. With over 20 years of waterfowl hunting experience combined, we are made up of 5 New York State licensed and insured guides. Within our hunt zone, we are blessed to have various bodies of water such as rivers, lakes, creeks, and swamps all of which provide viable roosting locations for waterfowl. Early goose season starts September 1st with a 15 bird limit a day per hunter. Our hunts take place mostly in dry agricultural fields of wheat, cover crops, and sweet corn along with opportunities to hunt flooded stands of corn in private blinds. Later in the season, we hunt mostly in cut corn. Our early duck season starts October 15th, with a 6 duck limit a day per hunter. We have multiple public spots as well as private land and a permanent blind that holds 5 hunters as well as top quality equipment. All that's missing is you!
ARIZONA –

Big Chino Guide Service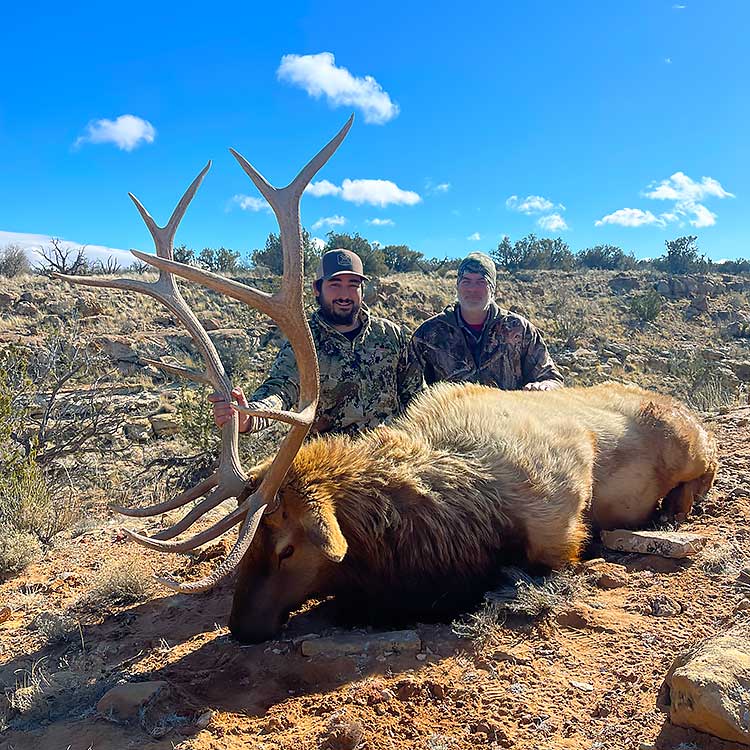 Arizona is currently producing the largest elk bulls in the world! Now you can hunt elk in northern Arizona with a professional guide service that has a high success ratio for mature bulls that score 350 B&C points or better. We're "Elk-aholics".  We hunt only the largest bulls in northern Arizona. Our guides have been guiding with Big Chino Guide Service since we began in 1987 and are some of the most knowledgeable guides in Arizona when it comes to hunting trophy elk! We only offer a quality trophy elk hunt in Arizona as we are not concerned with the number of hunters that we book but the caliber of trophy that you kill! Come hunt elk in Arizona with Big Chino Guide Service & call in these world class bulls within just a couple of feet of you! There is a bull screaming right now for you to come hunt trophy bulls in Arizona! Your trophy bull is waiting!
SOUTH DAKOTA –

Dakota Prairie Lodge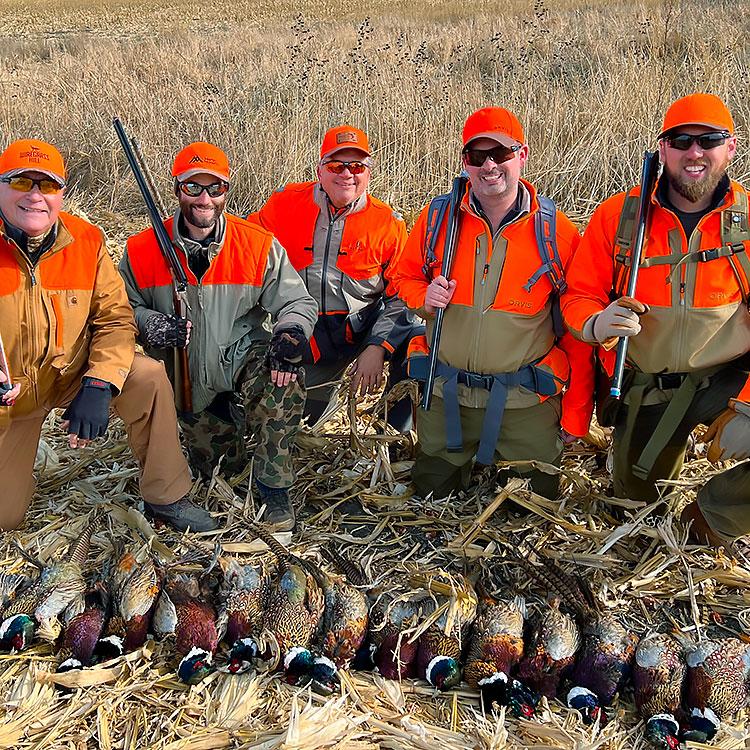 A crisp fall day, the far-off hum of combines harvesting corn, the endless prairie wind bending the grass – then the sharp crack of a shotgun, the excited barking of dogs, and the triumphant shout of a lucky hunter announces the fall of the first pheasant of the day. The vision of the Dakota Prairie Lodge & Resort began long ago after experiencing the thrill of opening day of pheasant hunting for many years, first as a family tradition and later as a more extended endeavor that included guiding groups of hunters. The orange vests and hats, the sturdy pants for walking through corn stalks and sorghum, the empty shotgun shells, the contest for the longest tail feathers, and the tall tales of amazing shots and unbelievable hits all contribute to the magical aura of pheasant season. Providing a first-class lodge and resort to accommodate the hunters is the logical extension of the hunting experience, guaranteed to enhance their enjoyment of South Dakota, encourage camaraderie among the hunting parties, and ensure their frequent return to this amazing state.
WISCONSIN –

Flambeau Forest Outfitters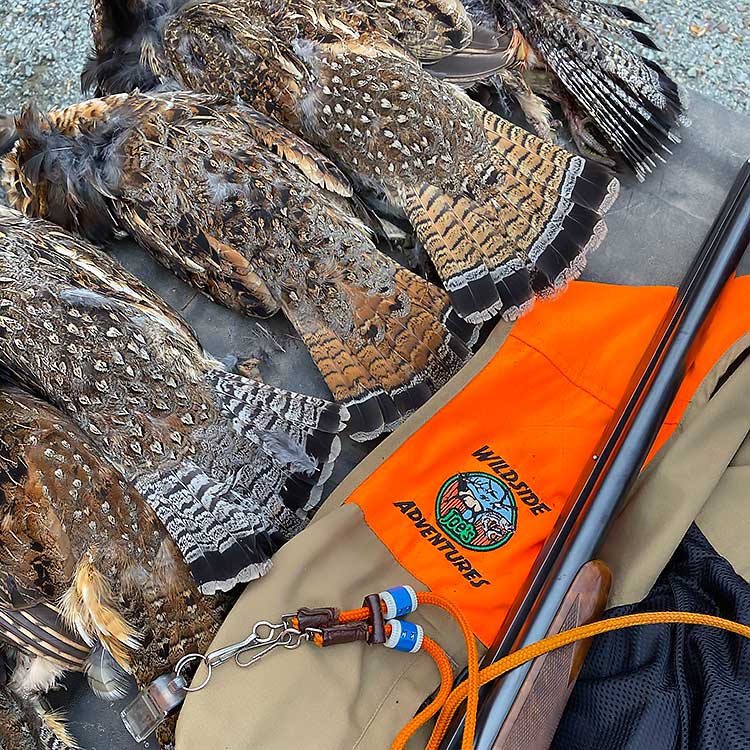 The Flambeau Forest Outfitters located in Phillips Wisconsin is a sportsman's paradise! Although it is noted for it's incredible grouse and woodcock hunting, the Whitetail Deer hunting, and Musky Fishing is spectacular. When you come to FFO you will be guided by expert guides and excellent dogs. It is nothing to cover 10 miles in a day but you don't even notice it because of the huge number of birds that you will see. Daily bag limits of 5 grouse are not uncommon depending of course on how well you can shoot! FFO has three methods of lodging. The locals are very friendly and welcome their guests with open arms!
See What Our Customers are saying about Wildside Adventures
GDV Custom Homes Inc.
2023-02-09
Joe is one of the most knowledgeable and personable guides I have ever experienced. From helping our entire group with travel arrangements to the equipment needed to making sure that everyone had a great experience. I could never have done this trip without his guidance. My only negative is he out fished me, by a lot!!! Gene DeVitis
I recently went on a 10 day fly fishing trip to Patagonia arranged by Joe. It was the best, most organized trip I have ever experienced. Joe and the lodge at lake Rosario were very accommodating along with outstanding food. The guides and helpers were some of the nicest people in the world. I cannot say enough nice things about my time. I highly recommend Joe for any hunt, fish or relaxing trips. You won't be disappointed.
Joe and Wild side Adventures went above and beyond in every facet of the trip. The attention to details and client focus was second to none. You instantly felt like family and were treated to a Best in Class experience. Highly recommend this group. Mark Arbes, West Virginia.
Just came back from Lago Rosario Lodge in Argentina with Joe's Wildside Adventures and let me tell it was a trip of a lifetime . Everything was organized to a tee, the lodge ,staff, guides, and food were all 5 star and then you put in the scenery was a 10. So if your looking for fly fishing trip like no other contact Joe and he'll take care of everything. Thanks Again Joe!
The Patagonia fishing trip with Wildside was one of the highlights of my life. The entire trip was 5 stars: locations to fish, guide expertise, food, wine and the trout!! Looking forward to my next Wildside Adventure!!
Wow,The most spectacular views, hospitality way above the line, five star meals , fishing in the most beautiful waters, and wildside Joe with excellent experience, attention to detail that made a trip of a lifetime just that! I would highly recommend traveling with joes wildside adventures on your next trip
I had the pleasure of traveling with Joe to Cala Mia Resort in Panama. From the gathering information stage to touching down in Panama, Joe made the process easy. He was informative on the pricing, setting expectations of what to expect and the planning of all logistics, including planes, busses, cars and boats. The resort itself was a pinch me life moment. Traveling an hour from David to the boat ramp, then taking a boat to the island just built the excitement levels. Our group took 2 boats to the island where we were welcomed by the owner of the resort and his wonderful crew. We were taken care of every moment with food, drinks and wonderful smiles. I was able to take advantage of scuba diving and fishing 3 days. The crew worked hard to ensure that we were on the fish and were having a wonderful experience. At the beginning, middle, and end, Joe Rossi made sure all his clients were having the best time possible and all expectations were met. I hope to have the opportunity to enjoy another fishing adventure with Joe from Wildside.
Tristan Milnthorp
2022-12-18
When you're ready for a truly remarkable outdoor travel experience, look no further than Joe's Wildside Adventures travel service. Joe has masterfully combined his years of traveling, hunting and fishing expertise, and customer service to provide a curated list of experiences for the outdoor enthusiast. Allow Joe take care of your trip, and you will not be disappointed. From choosing a destination that fits your desire and budget, finding flights and accommodations, and helping friends come together to celebrate a once-in-a-lifetime trip, Joe has a plan for everything.
Mike Gianantonio
2022-12-08
My wife and I recently took a trip with Wildside to Panama for deep sea fishing, and it was absolutely amazing. Wildside arranged everything from travel between Panama City to the Resort to then putting us on the fish. The resort was beyond expectations as was the food. This was easily one of the best trips we have taken, and we will definitely take many more journeys with Wildside.
Joe runs a top notch travel service. They are organized, efficient and great with communication. Looking for remote hunting and fishing trips with proven results ? Look no further- Go with Joe!