Find Your Guided Fishing Destination
NORTH AMERICA FISHING DESTINATIONS
Remote, wild, and rugged, our North American fishing tours are just as much about the adventure as they are about the fish. Many of our partners and lodges are located in remote corners of the continent, allowing clients & guests to fish and experience the unspoiled wilderness from the Bahamas to Alaska. Fish for Brown Speckled Trout, Bonefish, Northern pike, Walleye, Aalmon, Dolly Varden, and more. You dream it; Joe can plan it!
ALASKA –

Aniak River Lodge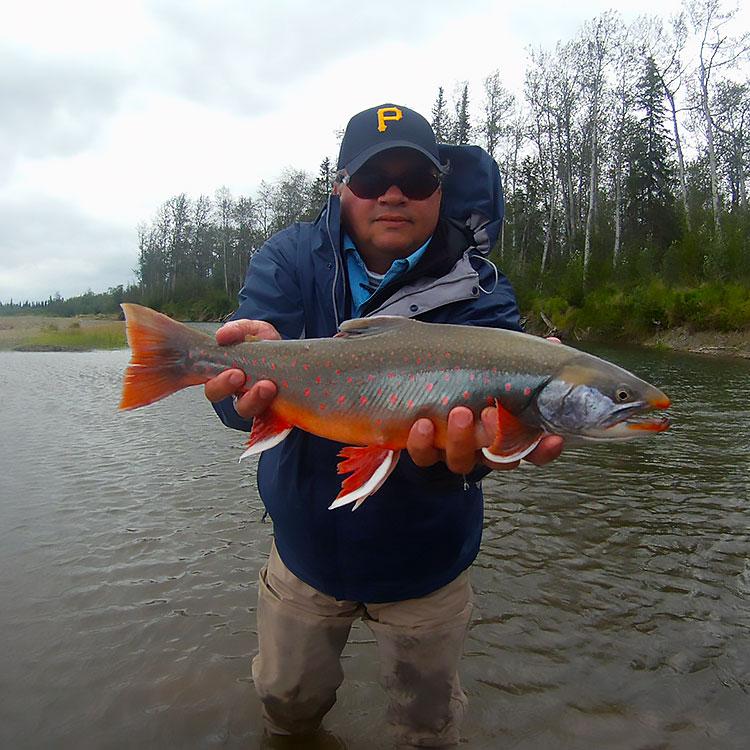 Americas last frontier, Alaska!  Wild, beautiful, mystical, rugged and yet one can enjoy the serenity of majestic mountains, cool streams, abundant wildlife and fishing that is off the charts!  35 Miles up the Aniak River from the small town of Aniak, Alaska sits the Aniak River Lodge.  The main cabin is the host of several small cabins in which our guests can enjoy their own beds, bathrooms and privacy.  In the evenings everyone gathers at the main lodge for gourmet dining prepared by the Chef.  The Aniak River Lodge has exclusive rights to fish miles of untamed wilderness.  So wild that it is not uncommon to see Moose, Bear, Eagles, Beavers and various other species that roam this territory.  The fishing is World Class!  11 species of fish can be caught in a stretch of water less than 10 miles long.  5 Species of Salmon from King, Silver, Coho, Sockeye, and Chum to Dolly Varden, Grayling, Rainbow Trout, Shefish, Arctic Char and Northern Pike offer just about anything an angler could ask for.  The Aniak River Lodge is Alaska fishing all rolled up into one place!
ALASKA –

Hodges Afognak Island Lodge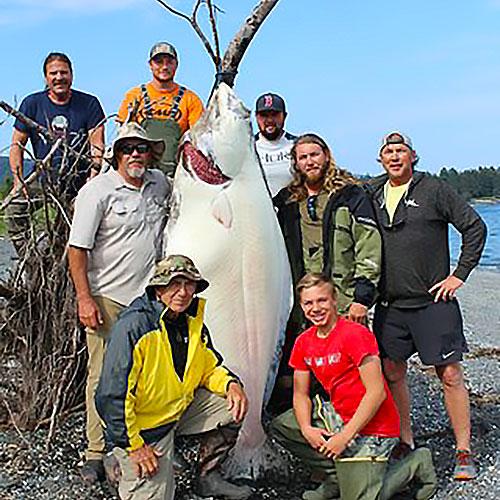 Jim & Cathy Hodge
Jim Hodge is the definition of a true Alaskan Outdoorsman. He was born and raised in New Hampshire and moved to Alaska in 1984. His enthusiasm with hunting, fishing, trapping and hiking extends back through his childhood years in the Northeast. This foundation in the outdoor sports field has been integrated with his 30+ years of hunting and fishing throughout the Alaskan frontier. Jim is a certified Alaskan Master Hunting Guide. Additionally, he is a fishing guide and possesses a coast guard captain's license. Jim is a master of his trade and combines his skills, knowledge, and passion to custom fit each adventure to suit an individual hunter or fisherman. He is particular about the safety, logistics and the needs of his clients to ensure an enjoyable and memorable adventure. As he is fond of saying. "You will leave Alaska Stronger and Better Looking!"
BAHAMAS –

Go Fish Bahamas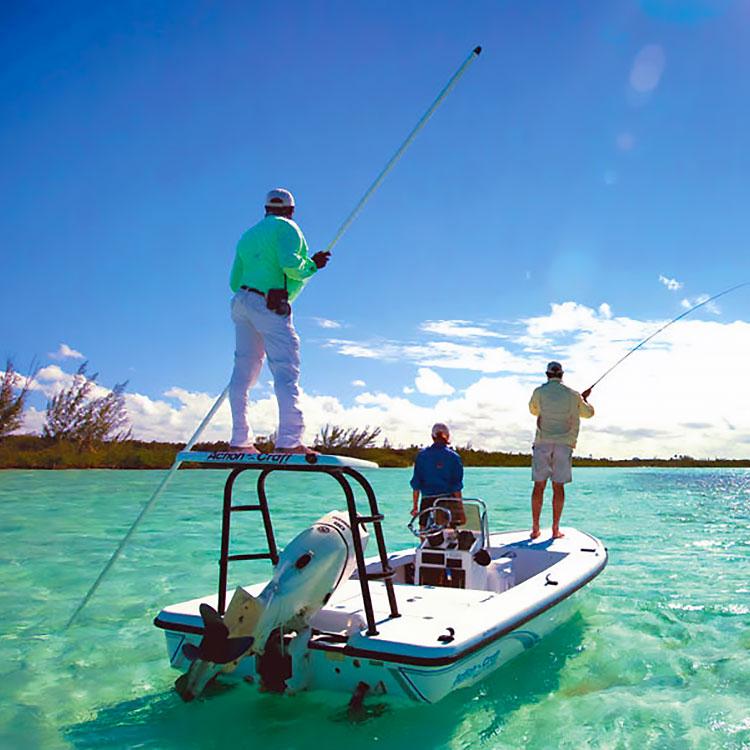 In the northern waters you'll find one of the most famous of all Bahamian islands, Bimini. Hemingway made this place legendary years ago and it is still a favorite jaunt for sport fishing. Today's visitors love the mix of history, contemporary resorts and the year-round opportunity of a world-record catch. Only 50 miles east of Miami, the quaint island attracts savvy divers and anglers of all ages.
Fishing here is not only spectacular, it can be record-setting. Modern resorts and quaint island-style accommodations are found on both North and South Bimini. Perhaps the best known of all is the famed Bimini Big Game Club. The club is rich in history and well-known for its accommodations, full-service marina, and excellent food. Grand Bahama, is a large well-developed island with an impressive new international airport, casino gambling, duty-free shopping and several nice hotels and resorts.
CANADA –

Athabasca Fishing Lodges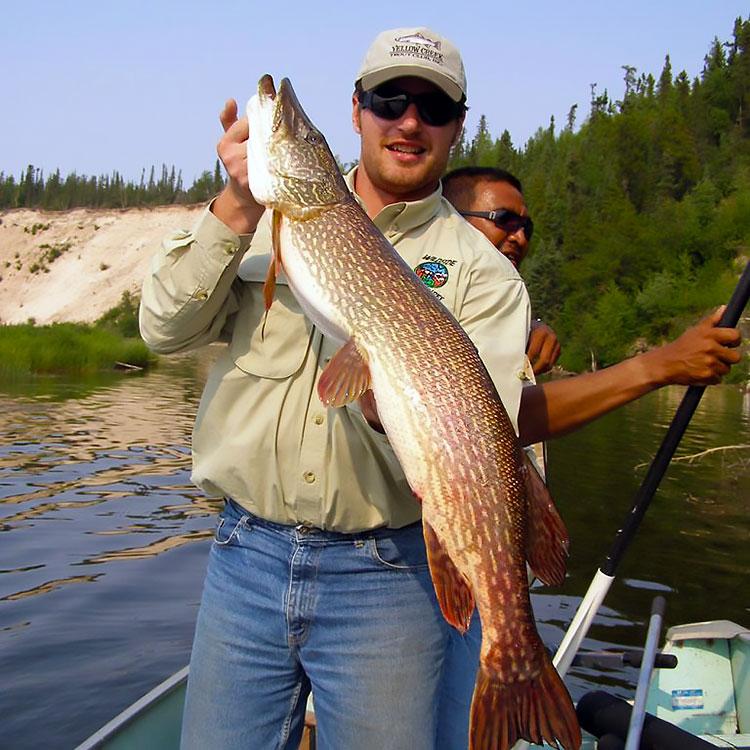 Few places in the Canadian north combine such a variety of freshwater fishing with all the comforts of home. Located near the 60th parallel in northwest Saskatchewan, Lake Athabasca is the largest lake in the province and is recognized as one of the "Big Fish" waters of the world. Whether you're after Trophy Lake Trout, Arctic Grayling, huge Northern Pike, Whitefish, or Walleye, you'll find them all here. Cliff and Stella Blackmur have been providing anglers with this comforts of home approach to fishing for over 30 years and man do they! Their list of "repeat customers" is staggering–many of which book their trip for the following year upon checkout. That is quite the compliment!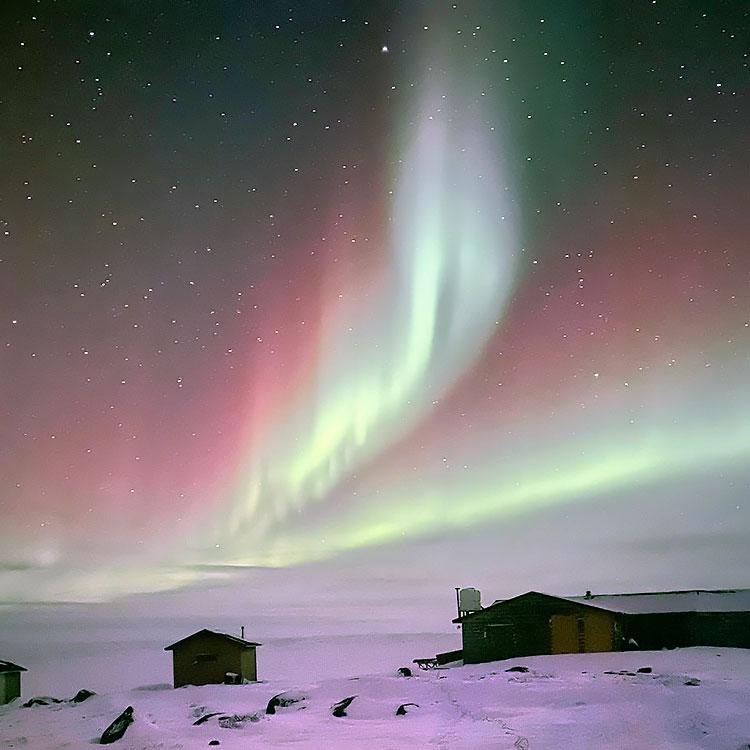 Whether you are interested in trophy lake trout fishing in the northern barren-ground region of the Northwest Territories, nature photography, canoeing remote arctic rivers, eco-tourism, or wildlife viewing, Aylmer Lake Lodge can offer you the best in a Canadian wilderness experience.
Aylmer Lake Lodge, located 227 air miles northeast of Yellowknife, is just now becoming discovered as a destination of choice for trophy lake trout, and arctic grayling fishing. Few anglers have been fortunate to fish these pristine waters, and the big lake trout are guaranteed to stress your fishing tackle.
Overlooking Rocknest Bay near the Thanakoie Narrows (a wide river system separating Aylmer and Clinton Colden lakes), the Lodge is ideally situated for the guest wishing to explore or fish this expansive body of water. Both lakes combined stretch over 80 miles in length, and have only begun to be explored for their trophy fishing potential. The water in the lakes is so clear that you can watch huge lake trout swimming 15 feet below the surface.
CANADA –

Igloo Lake Lodge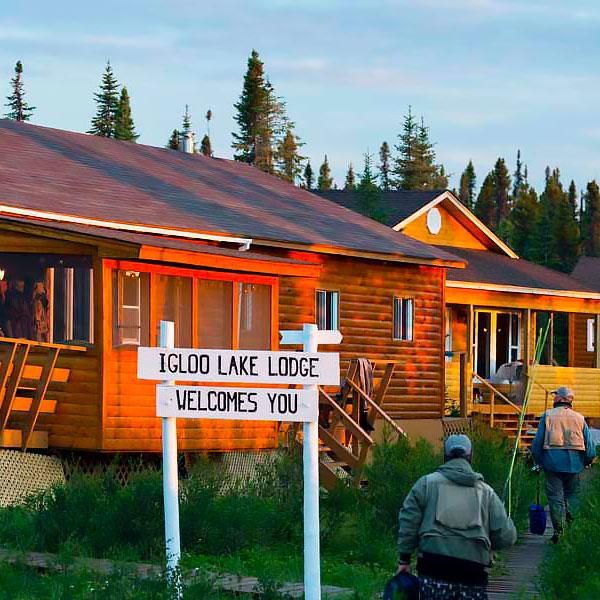 Since 1973 Igloo Lake Lodge has been offering all-inclusive speckled brook trout fly-fishing in the unspoiled wilds of beautiful remote Labrador, Canada. The remote location makes it an adventure just to reach the lodge. There are daily flights to Goose Bay from select locations in the United States and Canada. From Goose Bay, guests will then hop aboard our local twin-engine air carriers for a scenic flight over this remote backcountry region.
CANADA –

Restigouch River Lodge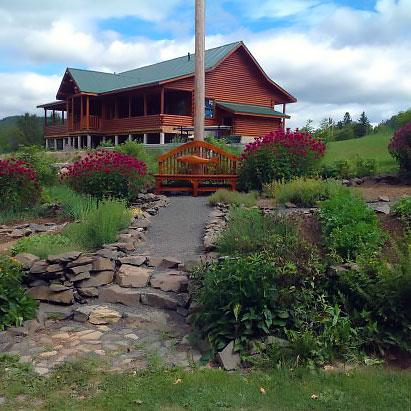 DescriptionThe Restigouche River Lodge is located on the banks of the world renowned Restigouche River in Mann's Mountain, New Brunswick, Canada. The lodge owns rights to 3.5 miles of private and exclusive water and sits in the center of this spectacular water shed. Our water line starts from the junction of the Matapedia River in Quebec across to New Brunswick and then to a point over 3 miles upriver encompassing the shores of both New Brunswick and Quebec. The angler will have the experience of fly fishing crystal clear water for large Atlantic salmon fresh from the salt. From spring into June and then again in late summer through the end of September the RRL has an additional 2 miles of adjacent water that is available to our guests.
CUBA –

Avalon Cuban Fishing Centers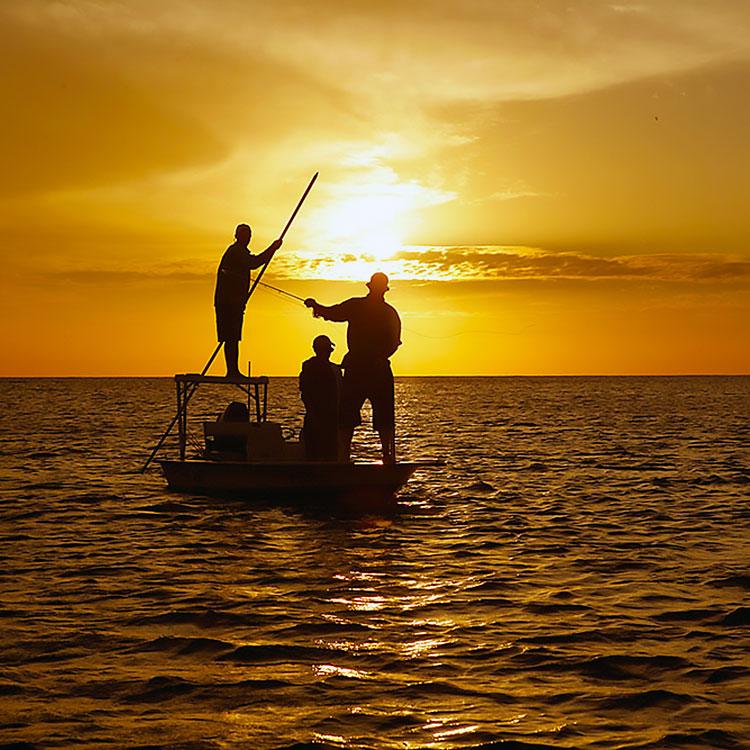 Fly fishing in Cuba is far different from other destinations in the Caribbean. Only in recent years has this flats fishery been developed, and you are fishing waters that have not seen sport fishing for nearly fifty years. Cuba has given these pristine areas protection as Cuban National Marine Parks, where no commercial fishing is allowed other than for lobster. Flats fish like Tarpon, Permit, Bonefish, Snook, Mutton Snapper, Barracuda, and a variety of Jacks are found in incredible numbers and since the fishing pressure is so light in these areas the fish rarely encounter sport fishermen and are unusually easy to catch.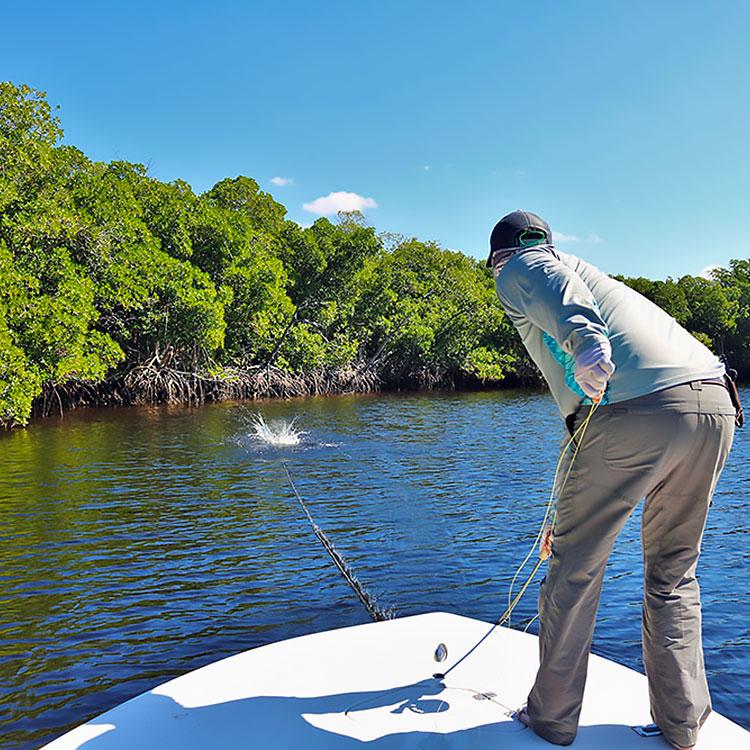 Campeche offers some of the finest and most consistent fishing for baby tarpon that you can found in the Caribbean. We give you the opportunity to target juvenile tarpon in the 6 to 25 pound range with floating lines. The fishery is a huge network of mangrove lagoons, flats and creeks that begin immediately north of the city, running along the coast for more than 120 kilometers all the way to the small fishing village of Isla Arena.  We offer a variety of lodging opportunities from a newly renovated house, to several beautiful hotel choices right in the city.  You will get an opportunity to experience the local cuisine at one of the many restaurants in the old town.
PENNSYLVANIA –

Keystone Connection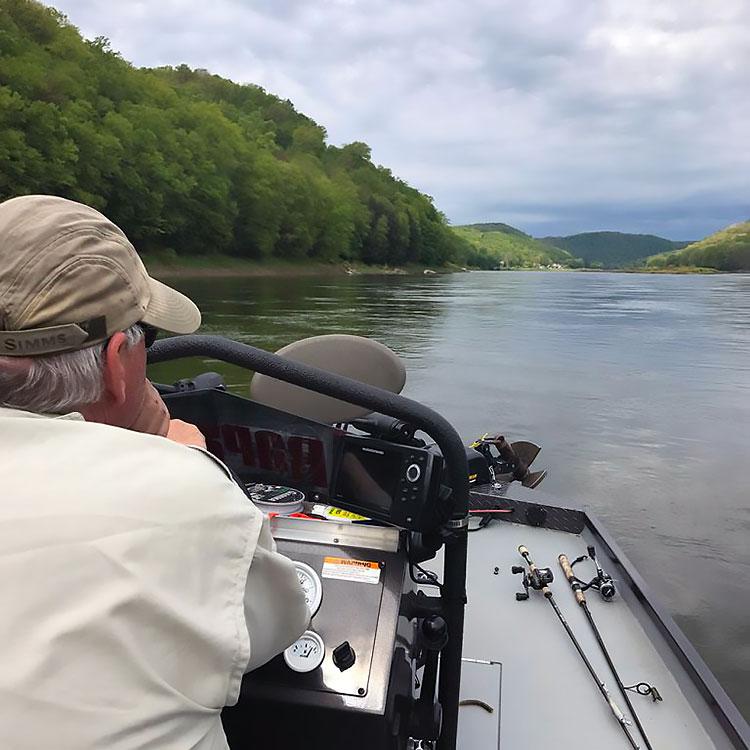 Fall in Western Pennsylvania is truly a special time of the year. Most people think of putting on the orange and heading to the woods for some Pheasant or Grouse hunting, not Jeff Knapp. He dawns his windbreaker, assortment of rods and reels and his jet boat for day on the Allegheny River. Just about an hour north of Pittsburgh, the Keystone Connection Guide Service offers some of the finest Smallmouth Bass Fishing you will ever see. 40-60 fish on a nice fall day is not uncommon.
Jeff is also a seasoned outdoor writer that stays current on the latest tactics for smallmouth and largemouth bass, walleye, and muskie. His need for recent photos, and new material for publication, keeps him on par with the most successful angling techniques and choices of locations.
MONTANA –

Renegade Fly Fishing Outfitters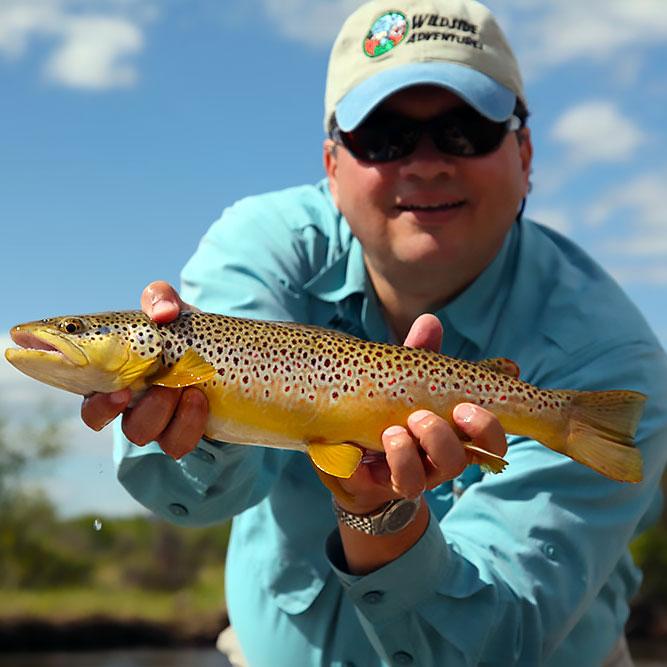 Located in Missoula, Montana lives Eric Ederer owner and main guide of the Renegade Fly Fishing Outfitters. Eric has been guiding the waters of western Montana for over 25 years with a passion for fly fishing second to none. I was lucky enough to spend a few days with Eric fishing the Clark Fork River and Georgetown Lake with some unbelievable results.  In just a short time, we experienced everything from a Blonde Black Bear to a hail storm in July! And the fishing,,Wow is all I can say. After about 50 trout between the two of us, we quit counting and that was only our first day! The second day was spent on the legendary Clark Fork River after some really aggressive wild Brown Trout. This was a whole new experience for me casting and recasting several times at the same small target while on the drift all day long. The fishing was very tactical, but the results were the reward!
NORTH CAROLINA –

Turning Stones Fly Fishing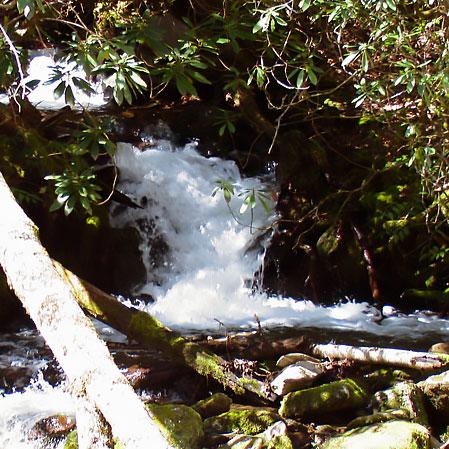 We are Turning Stone's Fly Fishing, LLC. Welcome to our website, we are glad that you stopped by. It is our goal to make each day on the river one that you will remember forever. We want you to have stories to tell others. After all, a good fishing story is always a favorite.
We are a full service, independent fly fishing guide operation in the town of Franklin, in Western North Carolina. Turning Stone's Fly Fishing was started in 2007 by Gordon Vanderpool. It was Gordon's goal to help others with the sport that he loved so much. We hope you will look around the website, and come visit and fly fish in the beautiful Smoky Mountains of Western North Carolina.
See What Our Customers are saying about Wildside Adventures
GDV Custom Homes Inc.
2023-02-09
Joe is one of the most knowledgeable and personable guides I have ever experienced. From helping our entire group with travel arrangements to the equipment needed to making sure that everyone had a great experience. I could never have done this trip without his guidance. My only negative is he out fished me, by a lot!!! Gene DeVitis
I recently went on a 10 day fly fishing trip to Patagonia arranged by Joe. It was the best, most organized trip I have ever experienced. Joe and the lodge at lake Rosario were very accommodating along with outstanding food. The guides and helpers were some of the nicest people in the world. I cannot say enough nice things about my time. I highly recommend Joe for any hunt, fish or relaxing trips. You won't be disappointed.
Joe and Wild side Adventures went above and beyond in every facet of the trip. The attention to details and client focus was second to none. You instantly felt like family and were treated to a Best in Class experience. Highly recommend this group. Mark Arbes, West Virginia.
Just came back from Lago Rosario Lodge in Argentina with Joe's Wildside Adventures and let me tell it was a trip of a lifetime . Everything was organized to a tee, the lodge ,staff, guides, and food were all 5 star and then you put in the scenery was a 10. So if your looking for fly fishing trip like no other contact Joe and he'll take care of everything. Thanks Again Joe!
The Patagonia fishing trip with Wildside was one of the highlights of my life. The entire trip was 5 stars: locations to fish, guide expertise, food, wine and the trout!! Looking forward to my next Wildside Adventure!!
Wow,The most spectacular views, hospitality way above the line, five star meals , fishing in the most beautiful waters, and wildside Joe with excellent experience, attention to detail that made a trip of a lifetime just that! I would highly recommend traveling with joes wildside adventures on your next trip
I had the pleasure of traveling with Joe to Cala Mia Resort in Panama. From the gathering information stage to touching down in Panama, Joe made the process easy. He was informative on the pricing, setting expectations of what to expect and the planning of all logistics, including planes, busses, cars and boats. The resort itself was a pinch me life moment. Traveling an hour from David to the boat ramp, then taking a boat to the island just built the excitement levels. Our group took 2 boats to the island where we were welcomed by the owner of the resort and his wonderful crew. We were taken care of every moment with food, drinks and wonderful smiles. I was able to take advantage of scuba diving and fishing 3 days. The crew worked hard to ensure that we were on the fish and were having a wonderful experience. At the beginning, middle, and end, Joe Rossi made sure all his clients were having the best time possible and all expectations were met. I hope to have the opportunity to enjoy another fishing adventure with Joe from Wildside.
Tristan Milnthorp
2022-12-18
When you're ready for a truly remarkable outdoor travel experience, look no further than Joe's Wildside Adventures travel service. Joe has masterfully combined his years of traveling, hunting and fishing expertise, and customer service to provide a curated list of experiences for the outdoor enthusiast. Allow Joe take care of your trip, and you will not be disappointed. From choosing a destination that fits your desire and budget, finding flights and accommodations, and helping friends come together to celebrate a once-in-a-lifetime trip, Joe has a plan for everything.
Mike Gianantonio
2022-12-08
My wife and I recently took a trip with Wildside to Panama for deep sea fishing, and it was absolutely amazing. Wildside arranged everything from travel between Panama City to the Resort to then putting us on the fish. The resort was beyond expectations as was the food. This was easily one of the best trips we have taken, and we will definitely take many more journeys with Wildside.
Joe runs a top notch travel service. They are organized, efficient and great with communication. Looking for remote hunting and fishing trips with proven results ? Look no further- Go with Joe!