Find Your Guided Fishing Destination
ARGENTINA FISHING DESTINATIONS
Our most popular destination for guided fishing trips! Travel down to South America to catch everything from Searun Brown Trout to Golden Dorado. Our Argentina fishing tours occur throughout the country, including Patagonia, one of the most scenic and wild places in the world. Browse our collection of lodges and fishing partners, and reach out to book your custom tour or join one of our guided tours.
Patagonia on the Fly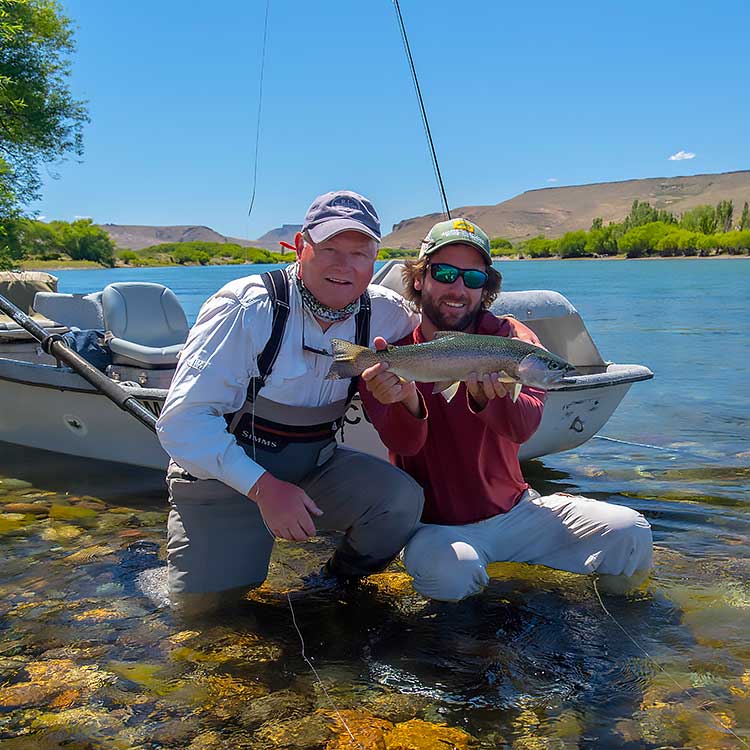 THE BEST WAY TO FLY FISH IN SAN MARTIN DE LOS ANDES.
PATAGONIA ON THE FLY is excited to share with you some of the best fly fishing rivers in Northern Patagonia. With a home base located in San Martin de los Andes, we offer you access to several rivers and the privilege to stay in some of the finest Estancias in Argentina. With miles of private access to the best waters and wild trout, you will find this to be a unique and enjoyable experience.
Your trip can be organized depending on your needs and the type of fishing you are looking for. Professionalism and flexibility are what we offer when we plan these special trips. You can maximize the fishing with the best access to the rivers while you enjoy the stunning views, landscape, Argentinian culture, food and wines.
El Refugio Quillen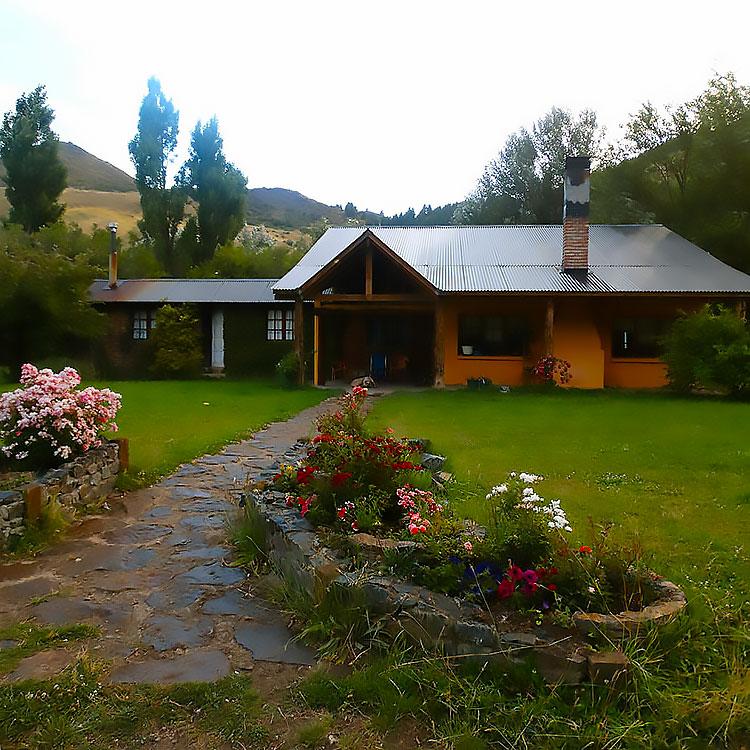 Located on a tributary of the Alumine River in Patagonia, Argentina sits The El Refugio Quillen Lodge.  This quaint little gem on the Quillen River offers some of the best fly fishing in Patagonia.  The owner, Juan Ignacio Ochoa has lived on this property his entire life and his family has guided there for over 100 years. That is 5 generations of Ochoas!
While at the lodge, the angler will have many options as the trip will be custom built to your needs.  Wading, floating, hiking small streams, or fishing volcano lakes are all available.  Among the larger rivers that you will fish are the Quillen, Alumine, Pulmari, Norquinco and Rucachoroy.  The smaller rivers are the Relem, Litran, Malalco, Calfigquitra and Quilka.  The beauty of fishing these rivers is, there is a great chance you will never see another angler the whole week!  And, if you want to go after the big browns, the Norquinco, Pulmari, Pilhue, Nompehuen and Rucachorory Lakes are the places to be!
Golden Fly Fishing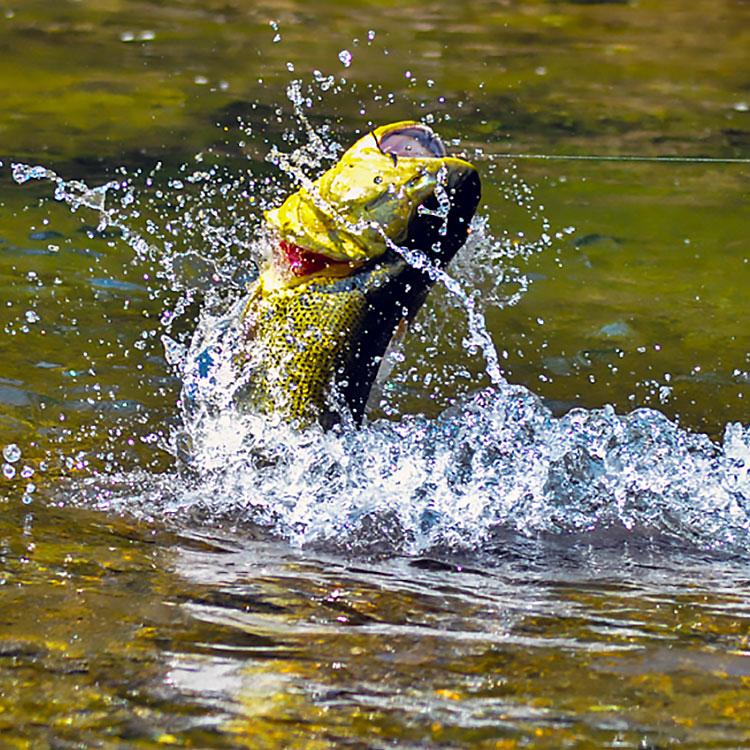 Nestled on the banks of the Paraná River in the Corrientes province of Argentina sits the Golden FlyFishing Lodge. The lodge has an old style European flare and is host to avid fly fishers from all over the world. The game?? Golden Dorado!  This toothy fresh water beauty offers the angler some of the most challenging fishing know to man.  It can range from 2 pounds up to 40Lbs and will give you a fight that you will never forget.  Fishing for the Golden Dorado can be enjoyed most of the year but most popular from November through March.
Lago Rosario Lodge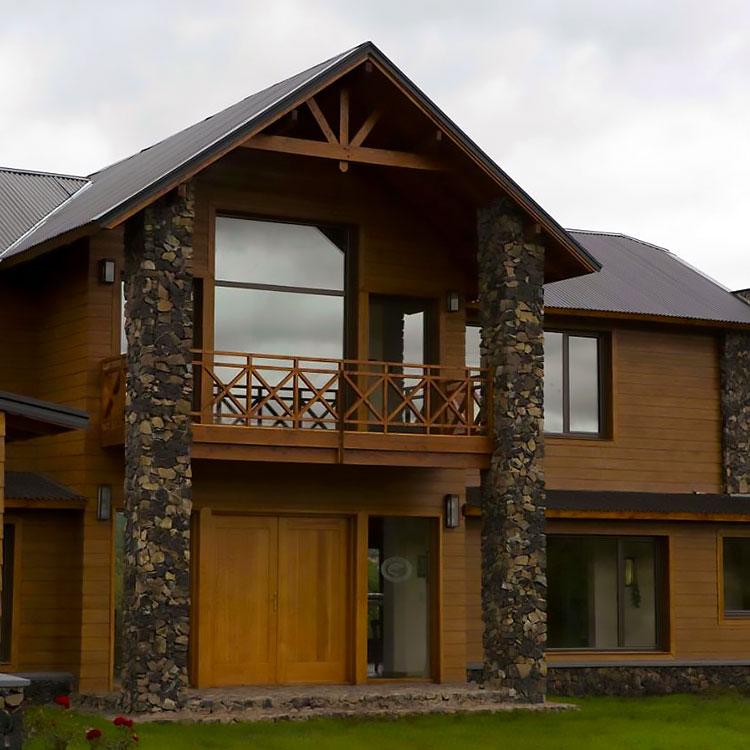 Situated on beautiful Lago Rosario just outside the quaint Welsh settlement of Trevelin and spectacular Los Alerces National Park, our full service lodge has combined the best local guides, most productive waters, and comfortable, accommodating programs for fishing and non-fishing tourism.  Lago Rosario Lodge is a full service fly fishing and tourism operation, designed from its very beginnings to provide the utmost comfort and enjoyment for up to eight guests at a time during your stay with us in Argentine Patagonia. Spacious living quarters and well appointed common areas combine with the beautiful surroundings and spectacular views to make this the perfect setting for your next austral hemisphere adventure.
Jurassic Lake Lodge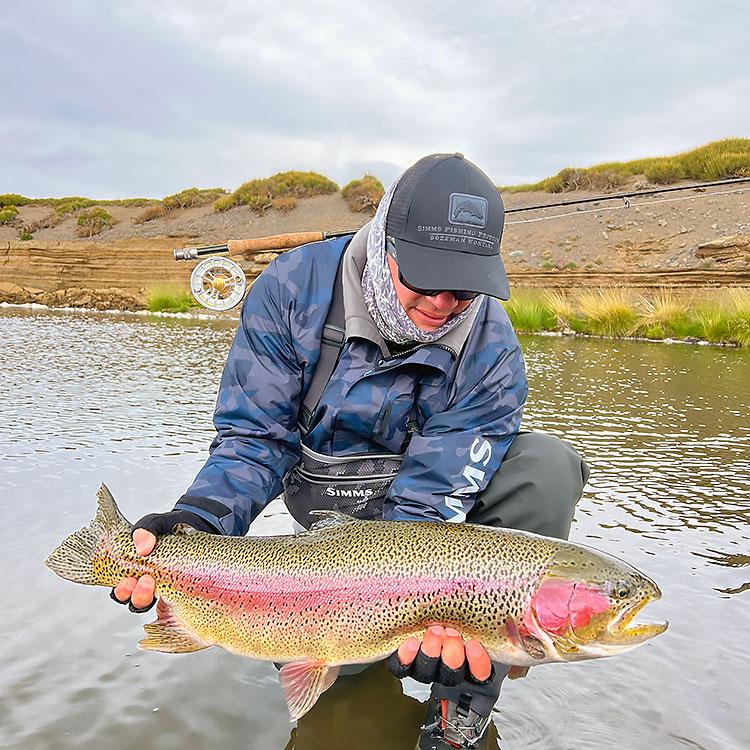 A world-class fly fishing lodge in remote Argentina that offers a wild escape for fishermen looking to catch trophy rainbow trout. This region is known as one of the most beautiful locations in the world. Once you visit, it's easy to see why.
During this Argentina fishing tour, anglers stay at the Jurassic Lake Lodge, which offers panoramic views of the Barrancoso River and Strobel Lake. During the day, head out to the waters and catch rainbow trout fish in stunning Southern Argentina. At night, return to the lodge for five-star cuisine & ultimate relaxation in one of the world's most remote corners. If you are interested in this Argentina fishing adventure, we start planning a year in advance for trips, so contact us early for the best availability & dates!
Kau Tapen Lodge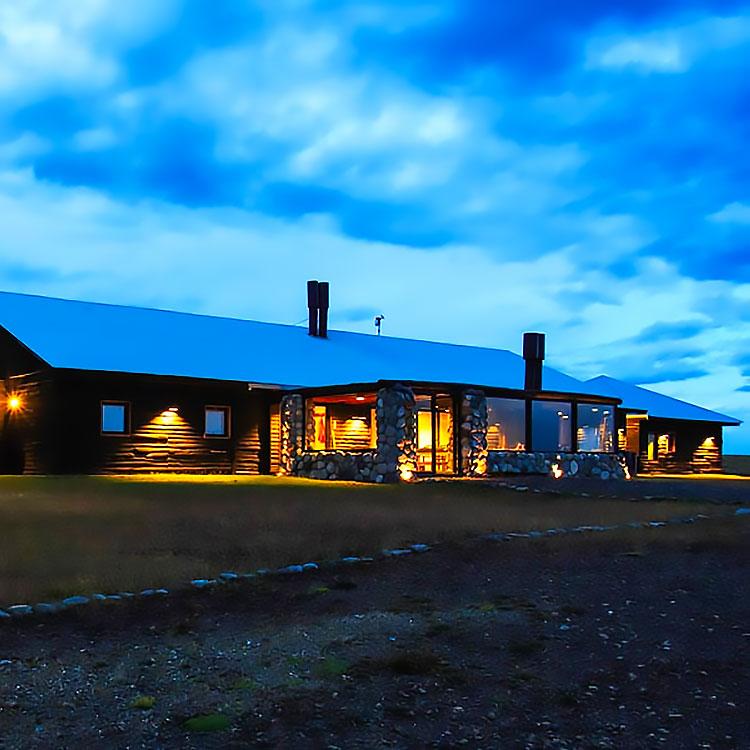 Kau Tapen was the first fishing lodge on the Río Grande, opening its doors in 1984. Its name means "House of Fishing" in the Ona Language and here, in the heart of the Río Grande watershed, live the best pools on the river.  If the walls of the magnificent lodge could talk, they would tell story after story of battles with huge trout over thirty-plus years. Kau Tapen Lodge embodies the fly fishing experience and to hundreds of anglers it is their fishing home. On the river, short walks and shallow wading are the norm. Single or two handed rods are both effective. Skate a bomber over a resting lie, or float a nymph next to a cut back for Sea- Run Trout you've only see in your dreams.
Lakutaia Lodge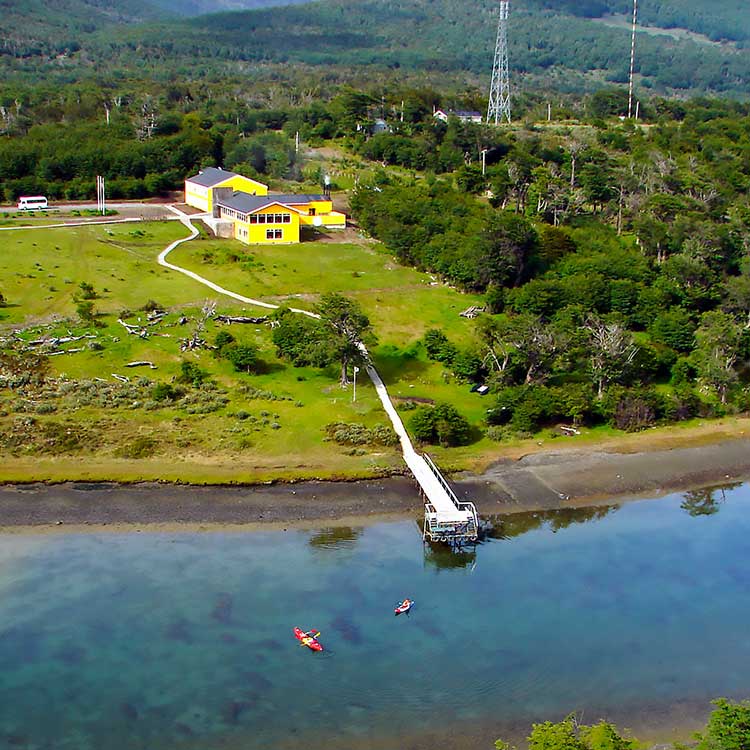 For lovers of fly fishing, having the possibility of accessing lakes and rivers where it is difficult for other fishermen to have arrived previously, becomes without a doubt in a goal to be achieved. LAKUTAIA LODGE invites you not only to meet this goal, but also to be part of the Fly Fishing more southern of the planet, where it is possible to find trout Farios, Fontinalis Arcoiris and Sea Run, the latter the southern ones that can be found.
Villa Maria Lodge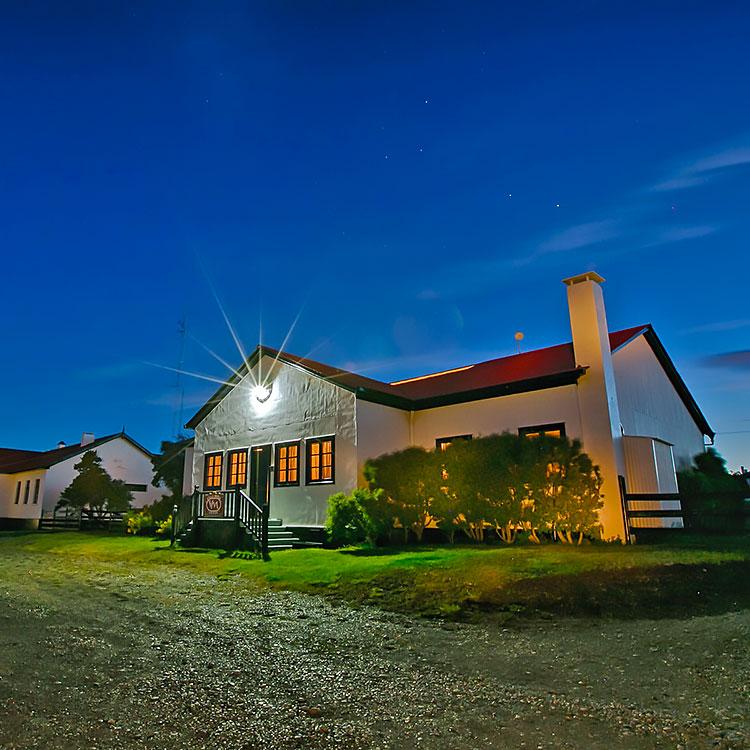 Villa Maria Lodge sits on the famous lower section of the Rio Grande, where anglers have the good fortune of being first in line for chrome sea-run browns pushing into system. Just above the tides, you'll see seagulls whirl overhead and smell the estuary salt. The river here is a seasonal shape-shifter sculpted by powerful flows streaming off the Andes. Endless gravel bars, deep tanks, and prodigious runs are the norm. As for the fish, well they're otherworldly too. On any given day, this is twenty-pounder territory. And "fish of a lifetime" are landed each week.
The Villa Maria Lodge, sister lodge to renowned Kau Tapen lodge is just 30 miles up river.  Villa Maria as the Kau Tapen, offer some of the most luxurious fishing and culinary delights on the planet.
See What Our Customers are saying about Wildside Adventures
GDV Custom Homes Inc.
2023-02-09
Joe is one of the most knowledgeable and personable guides I have ever experienced. From helping our entire group with travel arrangements to the equipment needed to making sure that everyone had a great experience. I could never have done this trip without his guidance. My only negative is he out fished me, by a lot!!! Gene DeVitis
I recently went on a 10 day fly fishing trip to Patagonia arranged by Joe. It was the best, most organized trip I have ever experienced. Joe and the lodge at lake Rosario were very accommodating along with outstanding food. The guides and helpers were some of the nicest people in the world. I cannot say enough nice things about my time. I highly recommend Joe for any hunt, fish or relaxing trips. You won't be disappointed.
Joe and Wild side Adventures went above and beyond in every facet of the trip. The attention to details and client focus was second to none. You instantly felt like family and were treated to a Best in Class experience. Highly recommend this group. Mark Arbes, West Virginia.
Just came back from Lago Rosario Lodge in Argentina with Joe's Wildside Adventures and let me tell it was a trip of a lifetime . Everything was organized to a tee, the lodge ,staff, guides, and food were all 5 star and then you put in the scenery was a 10. So if your looking for fly fishing trip like no other contact Joe and he'll take care of everything. Thanks Again Joe!
The Patagonia fishing trip with Wildside was one of the highlights of my life. The entire trip was 5 stars: locations to fish, guide expertise, food, wine and the trout!! Looking forward to my next Wildside Adventure!!
Wow,The most spectacular views, hospitality way above the line, five star meals , fishing in the most beautiful waters, and wildside Joe with excellent experience, attention to detail that made a trip of a lifetime just that! I would highly recommend traveling with joes wildside adventures on your next trip
I had the pleasure of traveling with Joe to Cala Mia Resort in Panama. From the gathering information stage to touching down in Panama, Joe made the process easy. He was informative on the pricing, setting expectations of what to expect and the planning of all logistics, including planes, busses, cars and boats. The resort itself was a pinch me life moment. Traveling an hour from David to the boat ramp, then taking a boat to the island just built the excitement levels. Our group took 2 boats to the island where we were welcomed by the owner of the resort and his wonderful crew. We were taken care of every moment with food, drinks and wonderful smiles. I was able to take advantage of scuba diving and fishing 3 days. The crew worked hard to ensure that we were on the fish and were having a wonderful experience. At the beginning, middle, and end, Joe Rossi made sure all his clients were having the best time possible and all expectations were met. I hope to have the opportunity to enjoy another fishing adventure with Joe from Wildside.
Tristan Milnthorp
2022-12-18
When you're ready for a truly remarkable outdoor travel experience, look no further than Joe's Wildside Adventures travel service. Joe has masterfully combined his years of traveling, hunting and fishing expertise, and customer service to provide a curated list of experiences for the outdoor enthusiast. Allow Joe take care of your trip, and you will not be disappointed. From choosing a destination that fits your desire and budget, finding flights and accommodations, and helping friends come together to celebrate a once-in-a-lifetime trip, Joe has a plan for everything.
Mike Gianantonio
2022-12-08
My wife and I recently took a trip with Wildside to Panama for deep sea fishing, and it was absolutely amazing. Wildside arranged everything from travel between Panama City to the Resort to then putting us on the fish. The resort was beyond expectations as was the food. This was easily one of the best trips we have taken, and we will definitely take many more journeys with Wildside.
Joe runs a top notch travel service. They are organized, efficient and great with communication. Looking for remote hunting and fishing trips with proven results ? Look no further- Go with Joe!