Even though Panama is just a small nation linking the North- and South-American continents, the isthmus between the Atlantic and Pacific offers some of the best offshore fishing found anywhere in the world. Panama's Gulf of Chiriquí holds over a dozen fishing hotpots and more than 20 game fish species. The Gulf is also home to the Hannibal Bank, one of the most celebrated deep-sea fishing waters in the world, and lies just 20 miles west of Coiba National Park.
Gulf of Chiriquí
The Gulf of Chiriquí is an amazing area for booking luxury fishing tours as there are few destinations in all the world's oceans that can rival it for its sheer quantity and quality of sport-fishing locations. The Gulf of Chiriquí encompasses both the Coiba and Golfo de Chiriquí National Parks. It holds dozens of islands and archipelagos that include Islas Secas, Isla Boca Brava, and Isla Montuosa. These areas create prime habitats for many ocean fish species that include marlin, tuna, and mahimahi. The incredibly dramatic and varied underwater geography holds great pinnacle structures that accentuate the unique swirling currents that work to channel the food-rich waters of the Humboldt Current.
Fish Species and Peak Dates
Of the over 20 big game species that can be found in and offshore of the Panamanian waters, the most popular fish species include:
Black Marlin: Caught year-round, with August typically being the best fishing month.
Blue Marlin: Caught year-round, with May through August being peak times.
Striped Marlin: Caught year-round, with March through August being the top months.
Sailfish: Caught year-round, with August and September being the two best months.
Yellowfin Tuna: Caught year-round, with March typically being peak season.
Pacific Jack: Caught year-round and can be taken in-shore along rock structures as well as offshore.
Wahoo: Caught year-round, with the peak month being November.
Mahimahi /AKA common dolphin: Caught year-round, January through March being the best months, and February usually being the peak time.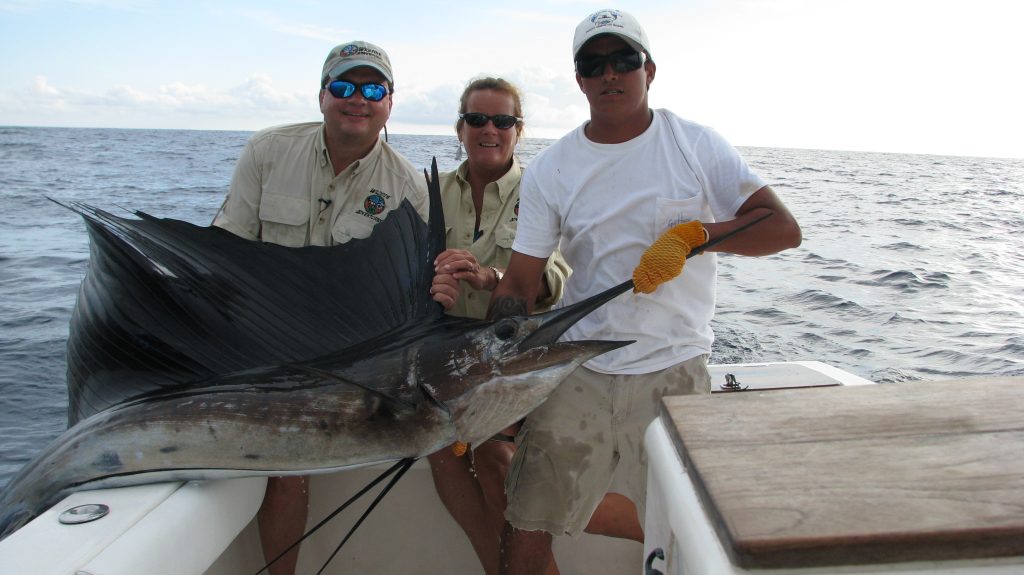 Hannibal Bank
Three miles wide by five miles long, the deep waters of Panama's famed Hannibal Bank are just over an hour's boat ride from the mainland. With its unique geographic features being home to countless microorganisms, the waters of Hannibal Bank hold one of the most diverse food chains found anywhere in the ocean. The combination of the underwater structure and the Humboldt Current that brings nutrient-rich water and an abundance of food up from Antarctica creates a marine habitat like no other. This all results in the banks supporting a diverse fish population, from the tiniest plant eaters to the largest predatory species that roam the ocean. This, along with the area not having any heavy fishing operations because of the region's marine-reserve status, makes Hannibal Bank one of the best sport-fishing grounds in the region and a premier spot for sustainable Panama deep sea fishing tours. As proof, angler's regularly hook up on record-book-size marlin and yellowfin tuna.
Coiba Island Reserve
Encompassing virtually all of the Gulf of Chiriquí's continental shelf islands, the Coiba Marine Reserve was listed as a World-Heritage site by UNESCO, the United Nations Educational, Scientific and Cultural Organization, due to its spectacular beauty, unique geographic features, and rich resources. Because of the area's protected status, only catch-and-release fishing is permitted.
Isla Montuosa
Located roughly 60 miles offshore, Isla Montuosa is the farthest island from Panama in the Gulf of Chiriquí and is one of the area's best fishing spots. Located adjacent to steep undersea pinnacles, anglers regularly take sailfish, snappers, monster black marlin, and yellowfin tuna, reaching up to 200 pounds. Billfish, broom-tail grouper, and snapper are also plentiful.
Isla Ladrones
Once a penal colony with its name meaning "Thieves' Island" in English, Isla Ladrones greets visitors with imposing green mountains that many feel resemble a lion overlooking its domain. Like the entire gulf region, the island's fertile waters provide ample opportunities for catching snappers, roosterfish, and several species of jacks and tuna. Aside from being a prime fishing spot, the area is a great location for scuba diving,
Islas Secas
Isla Secas archipelago has often been described as being frozen in time with its 14 spectacular volcanic islands in the Gulf of Chiriquí. Anglers here will have opportunities at the marlin, wahoo, and rainbow runners, as well as some huge barracuda. Whales, white-tip sharks, manta rays, and sea turtles are also abundant.
Isla Paridas
Isla Paridas is a small collection of islands just four nautical miles from Boca Brava, Panama. Anglers have opportunities to catch barracuda, wahoo, mackerel, roosterfish, and amberjack, as well as seeing bottle-nose dolphins and giant sea turtles.
Cala Mia Resort
Cala Mia Resort is a private all-inclusive resort on Isla Boca Brava in the Gulf of Chiriquí on Panama's Pacific coast, offering tarpon fishing tours. Voted the best small resort in Panama and located just a 40-minute boat ride from the Panamanian fishing grounds, Cala Mia is the only island-based resort with a full-service marina providing Central America fishing tours. The resort has a variety of accommodations, all with air conditioning, terraces, and spectacular ocean views. Cala Mia offers guests some of the best private fishing tours with all the world-class fishing opportunities the Gulf of Chiriquí has to offer. Cala Mia has received recognition for being the best small resort for Panama deep sea fishing tours and is the only island-based fishing operation in the area with a full-service marina with fuel service and a boat dock.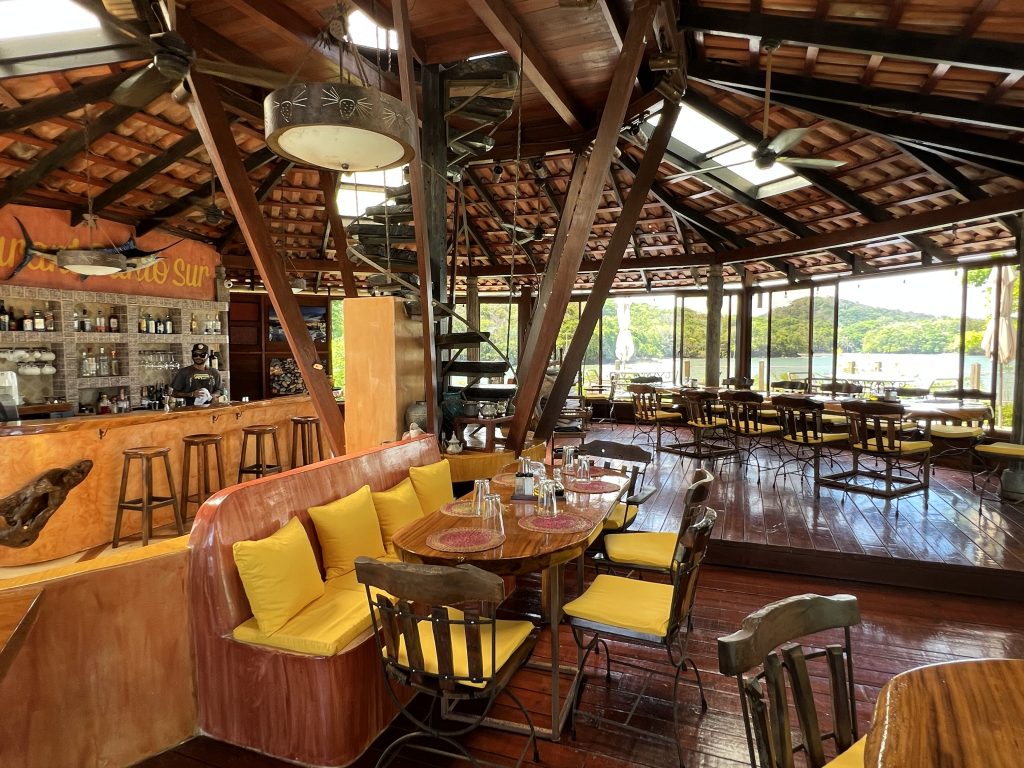 The all-inclusive resort offers guests luxury fishing tours along with two restaurants and a beach club, a spa, a yoga studio, two beautiful sandy beaches, and an infinity pool with water toys as well as hiking, horseback, and diving excursions. The resort can house up to 28 people with various types of accommodations, and private bungalows provide air conditioning and outdoor patios with dramatic ocean views. The villa and beach house can accommodate larger groups and families with up to six guests each. All-inclusive resort packages include:
Airport transfers to and from David City and the Island.
Ocean-view accommodations.
Wi-Fi service.
All meals and drinks, including beer, wine, and well-drinks.
Private beach club.
Spa services.
Use of kayaks and paddle boards.
Included Fishing Services:
Private offshore 32-foot, inboard diesel-powered sport-fishing boat operating on your schedule. All boats have a full canopy, fishing chairs, and satellite tracking.
Experienced fluent English-speaking captains.
Vacuum packing of your catch.
Fishing tackle and bait.
Lunch with snacks and drinks.
Booking a Trip
With an astonishing number of International Game Fish Association world records, Panama is a fishing destination that every angler must experience at least once in their lifetime. The best time to schedule a trip to Panama depends on the fish you want to target. January through the middle of March is the optimum time for yellowfin tuna and mahimahi, April through the end of August for sailfish and marlin, with November being prime time for wahoo.
If you are ready to experience the deep-sea fishing adventure of a lifetime, or for more information on Panama deep sea fishing tours, contact Joe Rossi at Wildside Adventures online or call 412-352-8703. Wildside Joe books some of the best private fishing tours as well as hunting trips all over the globe, and he hosted "Joe's Wildside Adventures," an outdoor adventure TV show that aired on the Sportsman Channel, FOX, and ROOT Sports for ten years. You can enjoy many of his adventures on Joe's YouTube channel at youtube.com/@WildsideJoe.