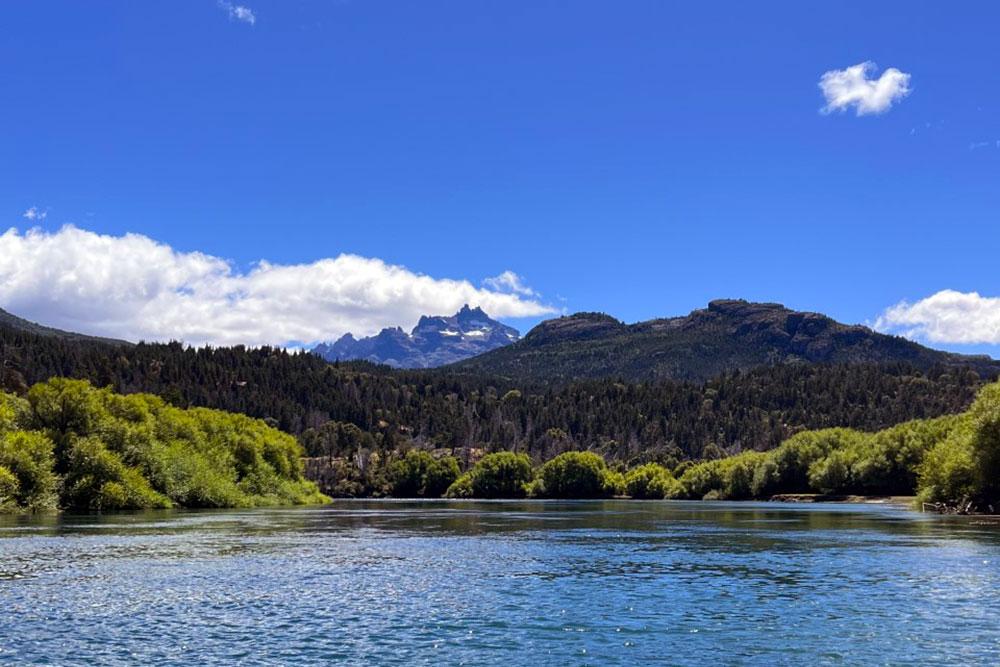 Located on the breathtaking Rio Grande River in Argentina, the sister fishing lodges Villa Maria and Kau Tapen offer anglers guided fishing tours in Argentina with some of the most unique and thrilling fishing opportunities anywhere in the world. Both lodges have their regional history and are as equally luxurious and welcoming. The Rio Grande River snakes its way through over 40 miles of Argentine territory and is world-renowned for its monster-sized, sea-run brown trout. If fact, the Rio Grande River has become the most productive sea-run brown trout fishery in the world and boasts the unofficial world record.
Villa Maria Lodge
Located at the southernmost tip of South America, the Villa Maria Lodge in Candelaria is a historic working ranch sprawled over 120,000 acres and still runs herds of 1,500 cattle and 40,000 sheep. The renovated ranch-style home provides five-star accommodations in the awe-inspiring wilds of the archipelago Tierra del Fuego. The Villa Maria is a must-stop for all Argentina fishing tours. It allows international guests to fish for giant trout in comfort and style with world-class accommodations and experienced river guides.
A skilled chef creates Epicurean dishes served in a tastefully appointed dining room. A roomy, but intimate, living room with a cathedral-style fireplace and a fully stocked bar allows guests to share stories and swap tall tales. Villa Maria also has a comfy day lodge conveniently set high on a bluff overlooking the river that provides guests with a spectacular setting to enjoy lunch and a siesta before heading back to the river for an afternoon fishing session.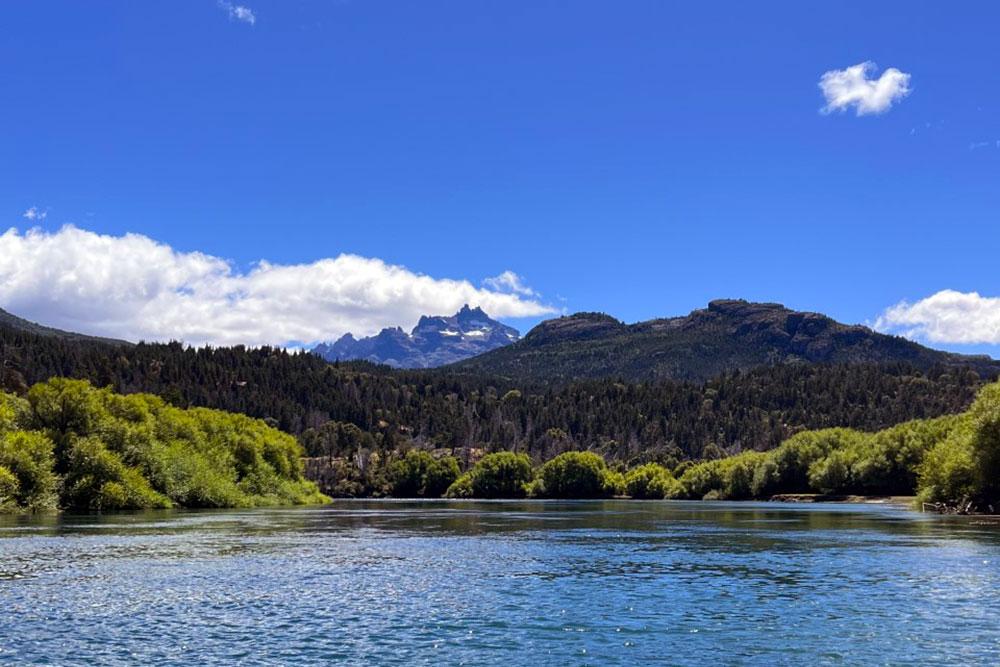 The Villa Maria offers anglers the first opportunity to catch sea-run brownies on the lower Rio Grande River as they return from the sea. The lodge provides anglers with an eclectic group of some of the world's best local and international fishing guides and the lodge rotates the guides daily to ensure each guest has the opportunity to fish with each guide. This assures each angler has exposure to every guide's wisdom and expertise, and with only six guests to cover approximately 12.5 miles of river, a stay at the Villa Maria ensures that each angler has plenty of uncrowded space to fish.
Kau Tapen Lodge
Constructed in 1983 and located in the heart of the Rio-Grande watershed, the Kau Tapen was the first fishing lodge built on the Rio Grande River. Expressly designed to offer guests on guided fishing tours of Argentina maximum comfort and easy river access, the Kau Tapen Lodge has become the international standard by which all other fishing lodges worldwide are measured. The lodge can accommodate up to 12 guests in en suite rooms, and the spacious living room with a large fireplace and well-stocked bar provides breathtaking views of the Rio Grande and Menendez valleys.
The Kau Tapen provides guests with world-class cuisine that focuses on locally sourced meats, fresh produce, and mouth-watering desserts. Meals are prepared to order from scratch by professionally trained chefs and consist of fresh pastas, fire-roasted meats, and ocean-fresh fish. The lodge offers guests a hot breakfast each morning, along with fresh fruit, fresh-baked breads, jams, and cereals. A traditional Asado, or barbecue, is held during each stay to allow guests to sample various cuts of cooked-to-perfection meats. The lodge's wine cellar features a wonderful selection of world-renowned wine from the Luigi Bosca Bodega.
The lodge also offers anglers a well-equipped tackle shop with a wide selection of top-quality sage rods, reels, flies, lines, clothing, and virtually any other equipment an angler could need. Guests also have full use of the lodge's fly-tying equipment and professionally designed tying table. The lodge also offers two wading rooms, a steam bath, a sauna, and a massage therapist.
The Kau Tapen sits on a section of the Rio Grande that holds some of the best-producing pools found anywhere along the river's 1,885 mile route. Here the river gives up many 20 pounders to anglers each week and a few 30-plus pound fish every season. If fact, five world record trout have been pulled from this section of the river by Kau Tapen's guests. Anglers commonly remark that this section of the Rio Grande is one of the easiest rivers they have ever fished, with shallow, easy-to-wade gravel bottoms and easier-to-read pools with steady flows and gentle riffles.
Rio Grande River
The Rio Grande River originates in the Chilean Andes and flows through the Patagonian region of Argentina before emptying into the Atlantic Ocean near Rio Grande, Argentina. While the Rio Grande holds several minor species, brown trout dominate the fish population and are the species anglers most typically set their sights on during guided fishing tours of Argentina.
The Argentinean Rio Grande lays claim to the most world record sea-run brown trout of any river in the world. The brown trout were introduced into the river by John Goodall in 1935 and are one of Argentina's most widely distributed non-native fish. Like salmon born in freshwater, sea-run brown trout go to sea and pack on a massive amount of weight before returning to the place of their birth to spawn. However, unlike salmon, ocean-run trout do not die after spawning. Biologists estimate that over 50,000 brown trout migrate up the Rio Grande annually, making it the largest sea-run brown trout population on Earth. However, not all of the river's browns migrate, and the reason for this is unknown.
Sea-run browns remain in the river for up to four years before venturing out to sea, where they feed for about six months before returning home. The fish weigh approximately six pounds after their first migration cycle. The trout completes up to seven migrations during its lifetime and can grow to the leviathan size of over 35 pounds. Brian Yamamoto caught the unofficial world-record brown trout on the Rio Grande in 2009, weighing a staggering 41 pounds!
Argentina fishing tours on the Rio Grande are scheduled around brown trout season, which runs from November to mid-April, with December and January being the most productive months. However, these also tend to be the windiest months, and while the sun is often strong this time of year, protective clothing is well advised all season.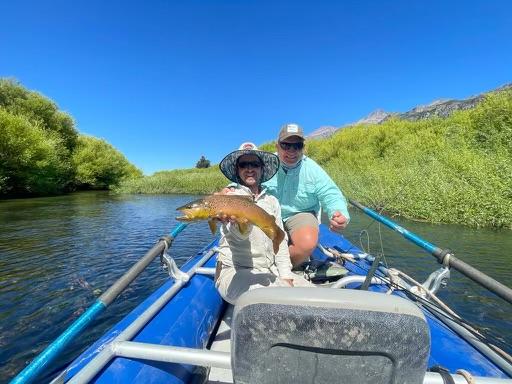 Booking Argentina Fishing Lodges
If you are ready to experience the trout-fishing adventure of a lifetime, or for more information on Argentina fishing tours at the Villa Maria and Kau Tapen fishing lodges or the Rio Grande River, email Joe Rossi at Wildside Adventures Travel Service. You can also visit them online at WildsideJoe.com or call 412-352-8703 to book any number of luxury fishing trips. Joe hosted the outdoor adventure TV show "Joe's Wildside Adventures" for ten years that aired on the Sportsman Channel, FOX, and ROOT Sports. You can explore their YouTube channel at youtube.com/@WildsideJoe.